This post is also available in: Tiếng Việt (Vietnamese)
On April 22, 2020, the State Bank of Vietnam held an online conference to all State Bank branches in provinces and cities across the country on enhancing bank credit to support businesses and people to overcome difficulties due to the impact of Covid-19 epidemic.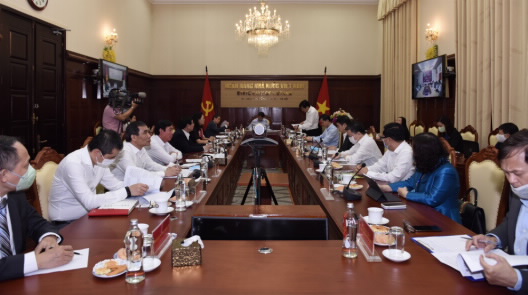 Governor Le Minh Hung said that the whole banking industry, from the State Bank to credit institutions, has been very aggressively implementing solutions to remove difficulties for the economy and loans to customers. After 01 month of implementing urgent solutions, the initial achievements of the banking industry are very positive, showing the proactiveness and aggressiveness of the units in the whole banking industry. On behalf of the SBV's Board of Directors, Governor Le Minh Hung highly appreciated the initial implementation results of credit institutions. However, the actual implementation still has some shortcomings, limitations and problems that need to be removed. In order to promptly take measures to handle and deploy more effectively in solving difficulties for borrowers and the economy, the Governor of the SBV requested:
The whole system of credit institutions should further raise the sense of responsibility of the industry to the economy, strongly implement measures to restructure debts, provide new loans, and reduce lending rates. It is necessary to determine whether the assistance to borrowers is also the support for the CIs themselves, helping the CI system to operate better in the difficult period. Supporting loans to borrowers has an effect on both the banking system and borrowers, and is the responsibility of each credit institution to the banking industry in particular and the economy in general.
Read more: https://bit.ly/2KD0GsR